About The Toowoomba Tree Experts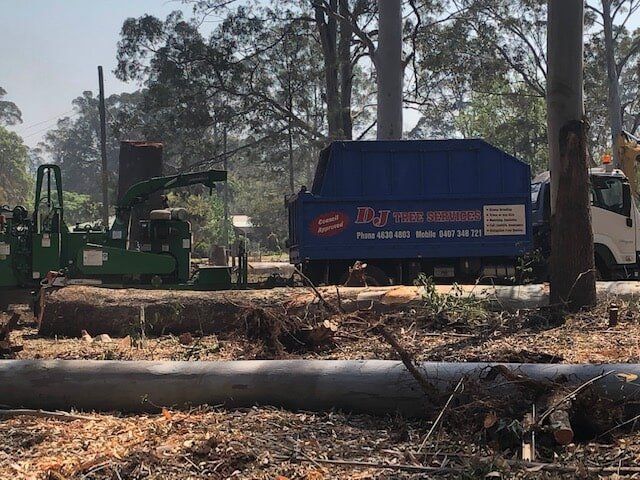 Do you need reliable tree removal and stump grinding services in Toowoomba? The professional arborists at DJ Tree Services have been servicing the Southern Downs region since 1986.

Our tree and garden services include everything from tree trimming, maintenance and removal to shrub pruning, stump grinding, land clearing, mulching and general plant care. As an environmentally conscious company, we ensure our services have as little negative impact on the landscape as possible. Using the latest technology and tree maintenance techniques, the team at DJ Tree Services offers cost-effective and safe services to effectively handle all types and sizes of trees.
Our specialities include:
We provide cost-effective solutions safe tree services, and we have an inventory of efficient machinery including excavators, tipper trucks, grinders, cranes and cherry pickers, to get the job done as quickly as possible.

At DJ Tree Services we specialise in all kinds of professional tree maintenance services. we have been taking care of trees in the Toowoomba region for more than 25 years and will continue to provide quality services for as long we can.

We offer a wide range of competitively priced tree services, always with respect for the environment, along with consideration for the safety of our clients and our team. If you need any tree work done, give us a call to arrange a consultation or quote.
Frequently Asked Questions
Who is responsible for maintaining a tree?
In QLD, the owner of the land the tree is growing on is responsible for the maintenance and care of the tree. You are the official tree keeper.
How do I know if a specific tree is protected?
You can either search through the Queensland Heritage Register or contact your local Council to find out all the details of protected trees. Always request the information in writing.
How should I deal with overhanging branches?
According to the common law right of abatement, you have the right to remove any branches that are overhanging your property from your neighbour's trees. You do not have to return the trimmings to your neighbour.
What are Protected Vegetation Orders?
These are Council orders to protect a specific tree or plant. If you would like to remove a tree that is protected, you can typically do so with a quick phone call to your local Council. We can help you to understand the regulations and deal with the Council, but the phone call has to be made by you.
Why should I hire a professional tree service?
The main reason is safety. Tree care, maintenance, and removal can be dangerous. It's best to have a professional with the right safety gear and experience do this type of work.