Insurance Work For DJ Tree Services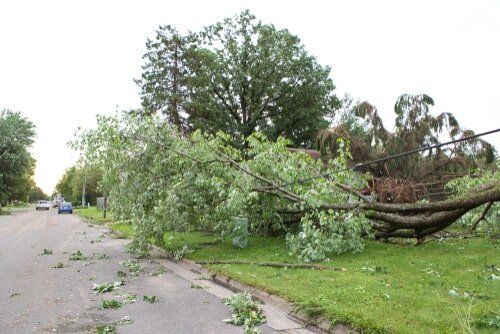 Extreme weather conditions can cause significant damage to trees with strong winds, heavily-saturated soil, and heavy hail all contributing. At DJ Tree Services in Toowoomba we work with insurance companies directly to quickly attend to matters such as fallen trees, broken branches and other tree or plant issues caused by storms.

As soon as it is safe to do so, we will send a team to assess the scene and determine the best course of action to resolve any dangerous situations. We can help you to decide if there is still enough value left in a damaged tree, to warrant saving it.

Whether you're the home owner or renting the property, if you have insurance, we can communicate directly with any insurer to ensure the process goes smoothly. Our experience over many years in the industry and local area mean that, rather than having to wait weeks for a fallen tree to be removed, you can rest easy knowing the work is done within hours or days.
The team at DJ Tree Services:
Is fully licensed & insured
Adheres to all OH&S regulations
Meticulously maintains its machinery
Is up-to-date with insurance procedural paperwork
Is clean, courteous and environmentally responsible
We also provide routine pruning services which are very helpful for preventing some of the more serious storm damages from occurring. We are always available to respond to emergencies so we can restore safety to the situation.​

Our service areas include Toowoomba, Torrington, Crows Nest, High Nest, Dalby, Warwick, Stanthorpe, Kooya and any area within the Southern Downs.