Stump Grinding in Toowoomba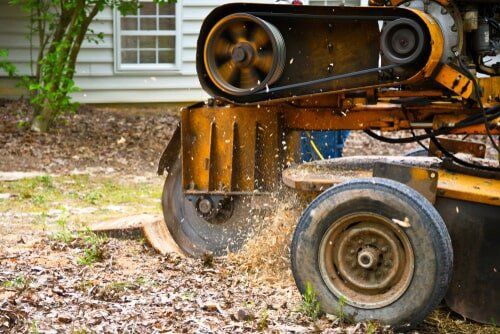 Specialising in complete stump removal and stump grinding. the tree experts at DJ Tree Services in Toowoomba, service all areas throughout the Southern Downs.

It's often a lot easier to fell an entire tree than to deal with the stump that is left behind. Grinding a stump down, under the soil level may be sufficient for your purposes. However, in some cases, the stump will need to be removed entirely from the ground, instead of simply being ground down. Our professional Arborist will help you to determine the course of action that best suits your preference and budget.

Our modern and safe stump grinding equipment is remote controlled and able to accommodate all sizes and types of tree stumps. You can choose to keep the grindings as mulch or have us remove them to be recycled somewhere else when the job is complete.

At DJ Tree Services we're an environmentally conscious company with genuine care for the health of all plants and trees. Our tree specialists understand how to ensure the least negative impact on the environment around the work site, while carrying out effective stump grinding and other tree services.
We perform all work with maximum care and safety to ensure optimum results, every time. The machinery and equipment we use, along with our experience, means every job is carried out efficiently and safely to produce the required outcome.

We offer 24 hour emergency services and can arrange to come out and assess the area before doing any work, to make sure removing the stump is possible. Once we've determined that, we can book you in.